32MD-STS

32MD-ST-4U
75 ohm Staggered Mid-size Video Patchbays
3G-ready mid-size video jacks allow for more efficient use of rack space.
Key Features and Benefits
32 channels of I/O into 1 or 2 RU, 96 channels of I/O into 4 RU.
Rotary Switch Technology with dual-contact construction
Can be recessed 25 mm (except 4 RU type).
Wide designation strip (2 RU, 4 RU type).
Lightweight aluminum alloy video jacks.
Note:

Be sure to use with Mini-WECO Video Patch Cords.
75 ohm Patchbays
Type
Model
Panel Size
Loaded Video Jacks
Standard package
32MD-ST
1 RU
32 x MDVJ-STW
1 pc
32MD-STS
1 RU
32 x MDVJ-STS
1 pc
32MD-ST-2U
2 RU
32 x MDVJ-STW
1 pc
32MD-STS-2U
2 RU
32 x MDVJ-STS
1 pc
32MD-ST-4U
4 RU
96 x MDVJ-STW
1 pc
32MD-STS-4U
4 RU
96 x MDVJ-STS
1 pc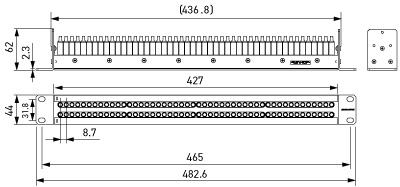 Return Loss & Isolation
Model
MDVJ-STW
MDVJ-STS
RL
BNC-BNC: Normal Through
26 dB or greater @ 750 MHz
20 dB or greater @ 2.4 GHz
10 dB or greater @ 3 GHz
-
BNC-Video: Patch Through
26 dB or greater @ 750 MHz
20 dB or greater @ 2.4 GHz
10 dB or greater @ 3 GHz
BNC-Self Termination
26 dB or greater @ 750 MHz
20 dB or greater @ 1.5 GHz
10 dB or greater @ 3 GHz
Isolation
35 dB or greater @ 1.5 GHz
20 dB or greater @ 3.0 GHz
35 dB or greater @ 1.5 GHz
20 dB or greater @ 3.0 GHz
Dual Video Jacks
Type
Model
Description
Rear Jacks
Standard package
MDVJ-STW
Normal through, Staggered rear jacks
BNC
1 pc
MDVJ-STS
Straight through, Staggered rear jacks
BNC
1 pc
Mini-WECO Video Plugs
Type
Model
Suitable Cable
Boot
Die Set
Standard package
-
MVP-C25HW
L-2.5CHWS
CB25
TCD-D253F
20 pcs
MVP-C4
LV-61S, RG-59B/U, Belden 8241, 8279, 88241
CB25
TCD-451CA
TCD-4CA
20 pcs
Accessories
Type
Model
Description
Standard package
NO IMAGE
MVPC**
Mini WECO patch cords
1 pc
NO IMAGE
MVPC**-HW
Mini WECO patch cords
1 pc
NO IMAGE
BCJ-MVP
BNC (female) to Mini-WECO plug conversion adapter
10 pcs
BET-BNC

Coming Soon

BNC extraction tool
1 pc
NO IMAGE
PH50A
Patch cord holder for MVPC**
1 pc
NO IMAGE
MVJ-DC
Dust cap for MDVJ (black)
40 pcs
NO IMAGE
MJ2-M32-*U-***
Unloaded panels
1 pc
NO IMAGE
VJ2-M32-4U
Unloaded panels
1 pc
Normal Throuth
(Return loss for MDVJ-STW)

Patch Through
(Long BNC port)
(Return loss for MDVJ-STW)

Patch Through
(Short BNC port)
(Return loss for MDVJ-STW)

Isolation