Wavelength Multiplexing Systems
Multiplexing (CWDM)

Multiplexing
"Multiplexing" is a technology that allows multiple signals with different wavelengths to be transmitted together over a single optical fiber. Three general types of multiplexing — WDM, CWDM and DWDM — offer increasing signal-carrying capacities, as described below.
8-wavelength CWDM system example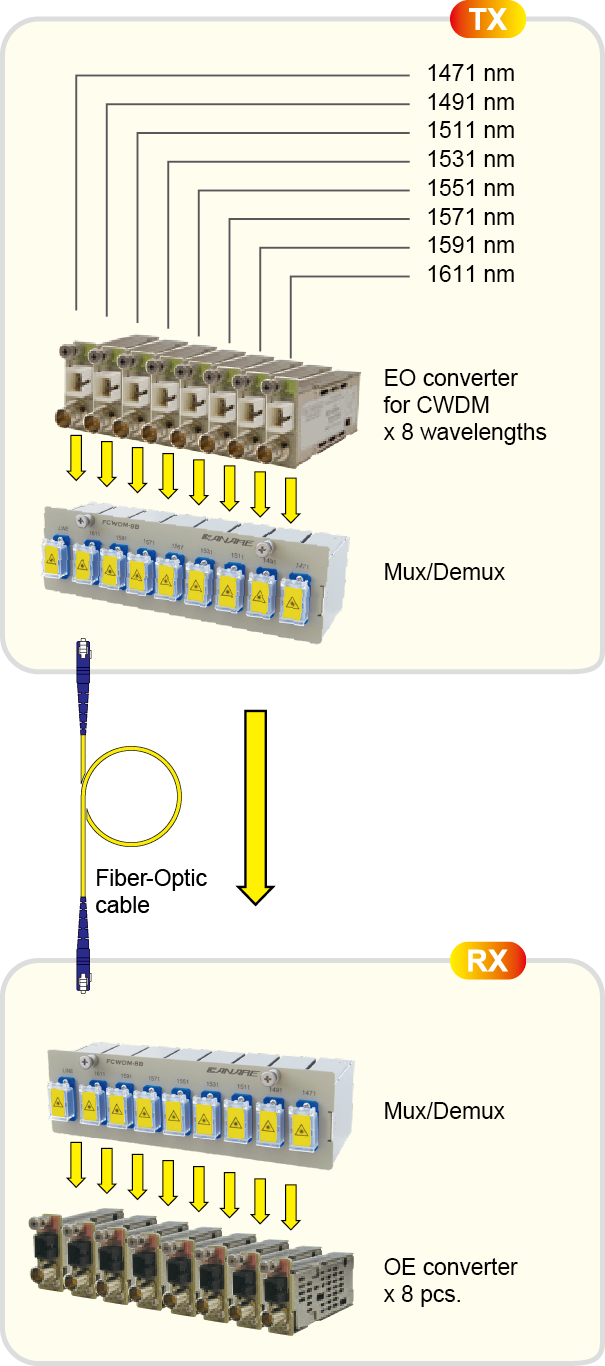 Note: Please use with Canare platform.
Wavelength Division Multiplexing
(WDM)
WDM is the simplest form of multiplexing and uses two wavelengths of 1310nm and 1551nm. Unlike when using and optical divider, insertion loss can be kept below 0.5dB.
Coarse Wavelength Division Multiplexing
(CWDM)
CWDM systems use 8 wavelengths (20nm grid) primarily between 1471nm and 1611nm. To these it is also possible to add 8 more between 1271nm and 1451nm to allow a maximum of 16 wavelengths to be carried as a single multiplexed transmission. An ultra-thin membrane filter on the optical multiplexer/demultiplexer (mux/demux) keeps insertion loss at just 2-3dB. *CWDM standardized through ITU G695.
Optical Converter
(TX for CWDM)
Canare's CWDM optical converter uses a DFB laser, which offers a much tighter spectrum than FP lasers. Up to 16 different wavelengths fall within 1271nm and 1611 nm in 20nm intervals. The wavelengths in the 20nm grid between 1391nm and 1411nm are not used because their proximity to the water peak results in too much attenuation
Optical Fiber Transmission Loss Characteristics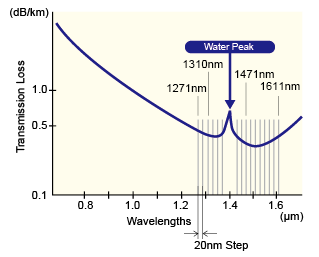 Optical Multiplexer/Demultiplexers
The optical signals output from the optical converter (TX) are combined into a single signal by the multiplexer (mux) and transmitted along a single optical fiber. At the receiving end, these combined optical signals are demultiplexed (demux) to split them back into their original component 8 signals.
Optical mux/demuxers are bi-directional, so the same model can be used for transmitting and receiving on each end. It's also possible to use 4 wavelengths out of the 8 for transmitting and the remaining four for receiving. Both 8-wavelength and 16-wavelength models are available, and combining these with an optical converter allows a variety of system constructions with many uses.
Optical Converter
(RX)
Canare's optical converter (RX) converts an optical signal comprised of 8 different wavelengths into electrical signals. This converter is common to all wavelengths and one converter is required for each wavelength.
Once optical fiber cables have been laid, multiplexing the transmissions carried on them eliminates the need to purchase and install new cables when more transmission lines are needed.
Eight Canare optical converters and an FCWDM-8B mux/demuxer can be installed compactly on a single 161UPSC 1RU-size platform, effectively allowing an 8-wavelength transmission system to be achieved in just 1RU of space.
Item GroupTotal Number 25 Hits