32MCK-ST-**
75 ohm Staggered Video Patchbays
The next-generation 12G-ready video patchbays with newly developed staggered dual video jacks.
Key Features and Benefits
12G-SDI: SMPTE ST 2082-1 compliant.
32 channels of I/O into 1 RU.
Staggered BNC rear jacks.
Dust-proof shutter.
Included a sheet of channel designator for easy identification.
Can be recessed 25 mm.
Lightweight aluminum alloy video jacks.
Note1:

Be sure to use with Canare Micro Video Patch Cords.

Note2:

Not compatible with other plug/patch cables.
75 ohm Staggered Video Patchbays
12G-SDI
Type
Model
Panel Size
Loaded Video Jacks
Color
Standard package
32MCK-ST
1 RU
32 x MCVJK-STW

BLK

1 pc
32MCK-ST-2

RED

32MCK-ST-4

YEL

32MCK-ST-5

GRN

32MCK-ST-6

BLU

32MCK-ST-7

PPL

32MCK-STS
32 x MCVJK-STS

BLK

32MCK-STS-2

RED

32MCK-STS-4

YEL

32MCK-STS-5

GRN

32MCK-STS-6

BLU

32MCK-STS-7

PPL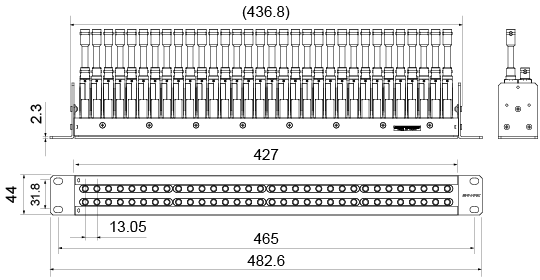 Return Loss & Isolation
Model
MCVJK-STW
MCVJK-STS
RL
BNC-BNC: Normal Through
15 dB or greater @ 1.5 GHz
10 dB or greater @ 3 GHz
7 dB or greater @ 6 GHz
4 dB or greater @ 12 GHz
-
BNC-Video: Patch Through
15 dB or greater @ 1.5 GHz
10 dB or greater @ 3 GHz
7 dB or greater @ 6 GHz
4 dB or greater @ 12 GHz
BNC-Self Termination
Isolation
45 dB or greater @ 6 GHz
45 dB or greater @ 6 GHz
Dual Video Jacks
| Type | Model | Description | Rear Jacks | Standard package |
| --- | --- | --- | --- | --- |
| NO IMAGE | MCVJK-STW | Normal through, Staggered rear jacks | BNC | 1 pc |
| NO IMAGE | MCVJK-STS | Straight through, Staggered rear jacks | BNC | 1 pc |
Micro Video Plug
| Type | Model | Suitable Cable | Boot | Die Set | Standard package |
| --- | --- | --- | --- | --- | --- |
| NO IMAGE | MCVP-C25HW | L-2.5CHWS | - | TCD-D253F | 1 pc |
Accessories
Type
Model
Description
Standard package
NO IMAGE
MCVPC**
Canare Micro patch cords
1 pc
NO IMAGE
BCJ-MCVP

NEW

BNC (female) to Micro Video plug conversion adapter
10 pc
BET-BNC

Coming Soon

BNC extraction tool
1 pc
NO IMAGE
PH50B
Patch cord holder for MCVPC**
1 pc
NO IMAGE
MCVJ-DC
Dust cap for MCVJK
100 pcs
NO IMAGE
MJ2-M32CK-*U-BLK

NEW

Unloaded panels
1 pc
Normal Through

Patch Through (Long BNC port)
Return Loss for MCVJK-STW

Patch Through (Short BNC port)

Isolation